Newsletter April 12, 2020
Oficina de Comunicación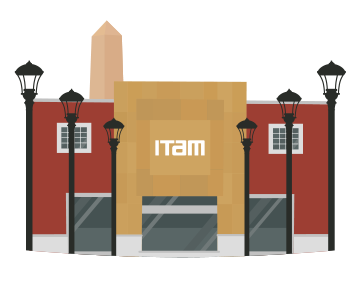 Dear students,
I express my heartfelt wish that you are in good health and spirits, and I extend this wish to your family and friends. A month has gone by since the academic activities at the institute's facilities were suspended. It has been a long month.
We have been able to continue our academic work online, and you and your professors have shown the willingness and disposition to adhere to the programs and their objectives. I want to acknowledge and thank everyone for their efforts. In our community we should take pride in being able to maintain our educational goals in the midst of current difficulties.
Despite the environment of uncertainty and adversity that surrounds us, I encourage you to be optimistic, to trust that we will soon overcome this health emergency. Never in its history has humanity been as prepared as we are now to face a pandemic. Technological advances are amazing and allow us to have vaccinations and medical treatments in a few months. Of course, for the moment we have to attend to our families and friends so that they take care of themselves and do not take unnecessary risks in this stage of rapid transmission.
On the other hand, it is essential that members of the ITAM community contribute creative, and solidly founded, ideas to mitigate the social cost and the effects on the family economy caused by social distancing and the closing of businesses. The educated voice of our community, its moral stature and its great spirit of solidarity must be heard and taken into account.
In this spirit of optimism, I assure you that these days of confinement will serve us in two ways: on the one hand, as a lesson that will allow us to appreciate all that is valuable to us more and, on the other, as a phenomenon that tests our ability to overcome some of our limitations and to revalue the daily coexistence in our university community.
What we learn from this confinement will allow us to put the privilege of personal interaction in community in its proper place and, thus, we will be able to enjoy more fully the "normality" that perhaps we did not appreciate enough before. When we return to Río Hondo and Santa Teresa, we will value our experience on the campus more intensely and enjoy the company of our colleagues and friends! I am sure we are all looking forward to returning. Given the impossibility of being together in person for the moment, I urge you to redouble your efforts to contribute to your personal improvement and to make ITAM mission's clear.
Finally, I invite you to take advantage of the challenges arising from this crisis and turn them into an opportunity. Confinement is difficult. It tests us in many ways: the discipline we need to maintain in order to fulfill our obligations; the self-control that we must exercise over our impulses in an unusual environment; the tension that we must temper in the face of constant coexistence in confined spaces; and the inclination to feel discouraged due to the feeling of loneliness and isolation that the environment may cause and which must be avoided. The effort we make to overcome these challenges will make us more resilient and we will also appreciate the benefits of routine and normalcy, often times underestimated. This health crisis reminds us that we are part of the human race and of a community, and that our destiny and our happiness are intertwined with others and, consequently, we must act in solidarity.
I send you an affectionate embrace and I reiterate that I am looking forward to seeing you, shaking your hand and hearing your voice.
Happy Easter!
Arturo Fernández
President