ITAM's Social Commitment Seminar 2017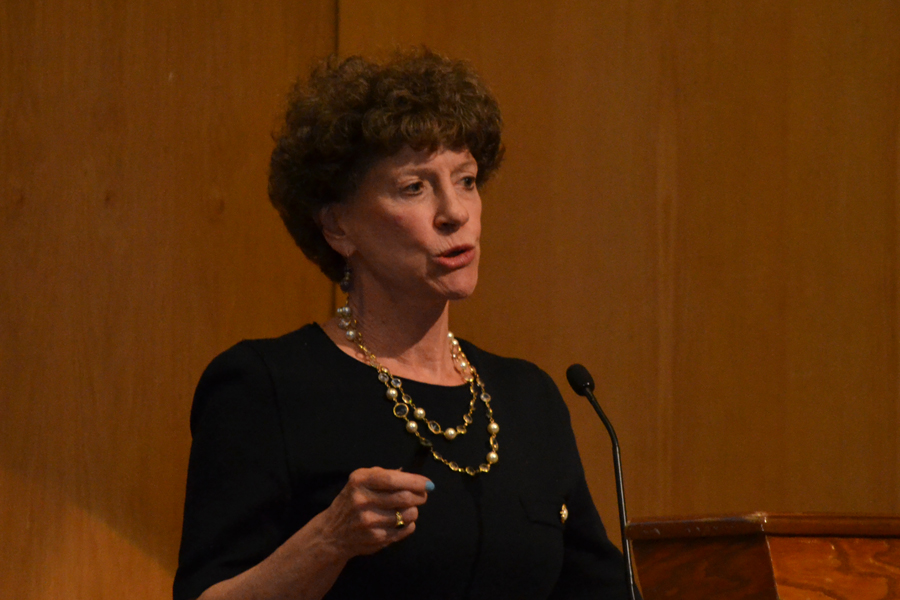 "Personal reflection is fundamental to being a great leader, a creator of bridges," stated Peggy Dulany, founder and director of Synergos at the event.
Wednesday, March 1st, 2017
At ITAM's fourth Social Commitment Seminar, Alejandra Peralta Borja, its coordinator, recalled that the seminar was created in order to create opportunities for reflection and collaboration among the alumni with an important role in the Third Sector as well as in areas of social responsibility in Mexican companies. She asserted that ITAM's mission entails a dedication to the development of a freer, more just, and more prosperous society.  It sees human beings as free individuals engaged in the pursuit of human development and progress. 
 Peggy Dulany, a philanthropist internationally recognized for her social work in programs in more than 50 countries, participated on this occasion. She founded Synergos in 1986, a non-profit global organization which facilitates the solution of complex problems regarding poverty.
During her talk, she spoke of the importance of fostering leadership that will have an important social impact.  She stated that people who are most affected by life's adversities will have the determination to solve them. They are missing the contacts in economic and politic environments where fundamental changes can affect the whole community.
She stated that Synergos works around the world to create learning and action networks to face issues, such as poverty and inequality.  Through its vast experience, Synergos has realized that four fundamental elements are needed to face these challenges: systematic thinking, inclusive collaboration, leadership capable of building bridges, and personal reflection activities.
Dr. Enrique Cárdenas, executive director of the Centro Espinosa Yglesias, also spoke on this occasion regarding the Centro's work on social intergenerational mobility issues, that is, the ability of people to work up the socioeconomic ladder.  He claimed that the Center's objective is that mobility be based on merit and effort and not on an individual's socioeconomic origins. This will in turn be beneficial in terms of justice, social cohesion, efficiency, and prosperity.
During the panel on altruism and egoism, the participants spoke of the different paths leading to altruism because it is an intrinsic quality of people and it is important to participate in projects that promote this sense of belonging. Marcela O. Rovzar, President of the Qualitas of Life Foundation, Ángeles Anaya, founder of Fortalece Legal, and Fernando Lelo de Larrea, Founder of Fondedadora/Donadora, shared their experiences and their foundations' contributions to society's development.
Irene Espinosa, member of the Commission of Female Leaders for an Inclusive Economy, Rosy Gluyas, Director of Alberto Baillères Foundation, Dina Buchbinder, President of Educación para Compartir, and Laura García, Chief Director of Semillas, spoke about female leadership. They stated that stereotypical female roles could be changed if society were more analytical. They claimed that the issue was not gender inequality but social inequality, therefore they proposed looking for areas where underprivileged groups could be represented in all aspects of our society. 
At the end of the seminar, Magdalena Barba, professor of the Academic Department of Economics, invited all of the participants to reflect on these topics, namely how to be empathetic, set networks, be inclusive, and build bridges in order to contribute to a freer, more just, and more prosperous society.